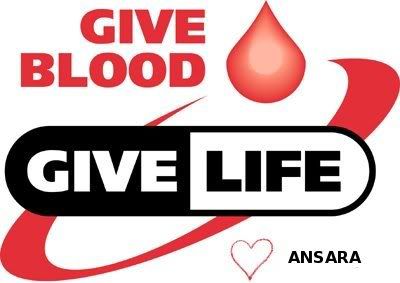 Image by :
anglgirl1976
Blood is life...
Every year, the company that I work for holds its Mass Blood Donation Drive in cooperation with the Philippine Red Cross.
Last year, my intention to donate blood and save life was rejected because of my period. My last day was the day prior to the Mass Blood Donation Drive. I failed to save life...
Yesterday was the company's Annual Blood Dondation Drive and was again a failure for me. I've done the efforts prior to yesterday.... I slept for 8 hours, I did not take alcoholic drinks, I did not drink coffee and I drink lots of water.
I woke up so excited that finally I could donate a blood. I went to the room and confidently presented myself as first timer(but my 2nd attempt). I happily filled-up the form.
When the PRC officer put me to the first test, she told me I cannot donate blood. I am a floater - the sample of my blood did not sink to the bottom of the container filled with solution - my homoglobin(Hb) is just enough. I failed...
I failed to save life and to know what a blood donor feels when they save lives - for the second time.
I wanted to donate blood because I want to save life - to be a person living life with a purpose. That is one of my ways to be of purpose.
I know a bit of how it feels to those who need blood. Last year in October, I almost needed some. I was hospitalized for dengue. Only my sister and my helper were there. I did not feel that I was sick because I was so active - I do things without assistance while in the hospital. While my sister was asleep and the helper went home to get my sister's unifrom(she can't leave more than a hundred patients), the nurse informed me that my platelette went down to 60. When the nurse left, I hid under the blanket and sob. What if I need blood transfusion? Where can I ask help to get blood? Whose blood will be transfused in my veins? Will it hurt? Dad, Mom, where are you?
Good thing that I was not advised for a blood transfusion. From 60, my platelette increased to 70 then up, up, and up until I was advised to go home... Thanks to Sir Fermin for the standby help in case I will be needing blood.
Blood is life... that's what I realized. That is why my eagerness to donate blood was increased. Lots of people at the hospital needs blood. I wanted to save at least one of them...
I will do my best that next year, I could be able to give blood. In the meantime, I will find other ways to be a person of purpose...